Our humble beginnings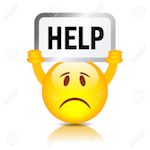 San Diego Ceremony Audio began by fulfilling the need of a couple getting married at the Wedding Bowl at Cuvier Park in La Jolla who had their permit, their chairs, altar, flowers, and Minister but they found they still needed an audio system that meets the park permit requirements and didn't want to pay the enormous fee their reception D-Jay wanted to come to the park and provide an additional system at the location. We were available
We follow the rules so you avoid a costly citation for violating your park permit.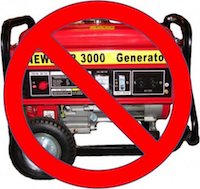 We use a professional BATTERY POWERED digital audio system that meets and exceeds the San Diego Shoreline park permit requirements. Unlike a few other audio services in the area, WE NEVER USE a portable and noisy gas powered generator OR AC/DC Battery backup that violates your park permit which leaves you liable and responsible for all citations and fines issued.
Being heard and not seen.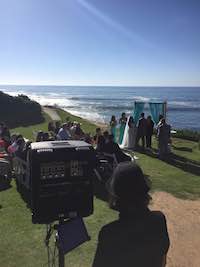 We arrive early to begin our setup process after your altar and chairs are arranged. Once done, we begin to set up and test our system. With our Roland™ stereo sound system, which is equipped with built in anti-feedback, we don't have to worry about speakers having to be up front and facing your guests (and in all your ceremony photos!) We simply hide in the back and all your guests see is your magic moment….
"Offering audio support at park and beach weddings when couples already have their Officiant seemed like a logical addition to our ceremony services and what we can offer (something we do when Officiating our own ceremonies). Mary and I have been performing weddings at The Wedding Bowl for years… we even own and operate The Wedding Bowl website that offers couples information on how to save money as a DIY wedding venue. If we're available to help as an Officiant with our audio package OR just our extended audio package for couples that already  have their Officiant… if we're available, we're ready to serve!" – Christopher
* TheKnot, WeddingWire & Yelp!